WatchGuard WebBlocker
WatchGuard WebBlocker ist der optionale URL-Filtering Security Service für WatchGuard Firebox / XTM (Hardware Firewall/VPN Appliances). Diese Hardware Firewall Appliances gibt es in verschiedenen Größen für den Einsatz in kleinen, mittleren und großen Betrieben oder Behörden, aber auch für SOHO (Small Office, Home Office). Mit Hilfe von WatchGuard WebBlocker steuert der Firewall-Administrator den Zugriff auf Webseiten nach Inhaltsregeln. Hierzu werden die HTTP und HTTPS Application Proxies der WatchGuard Firebox an die WebSense Content Security Cloud-Datenbank angekoppelt (ehemals SurfControl). In dieser Datenbank werden laufend mehrere Millionen URLs und IP-Adressen nach inhaltlichen Kriterien indiziert, gepflegt und erweitert.
Funktionsweise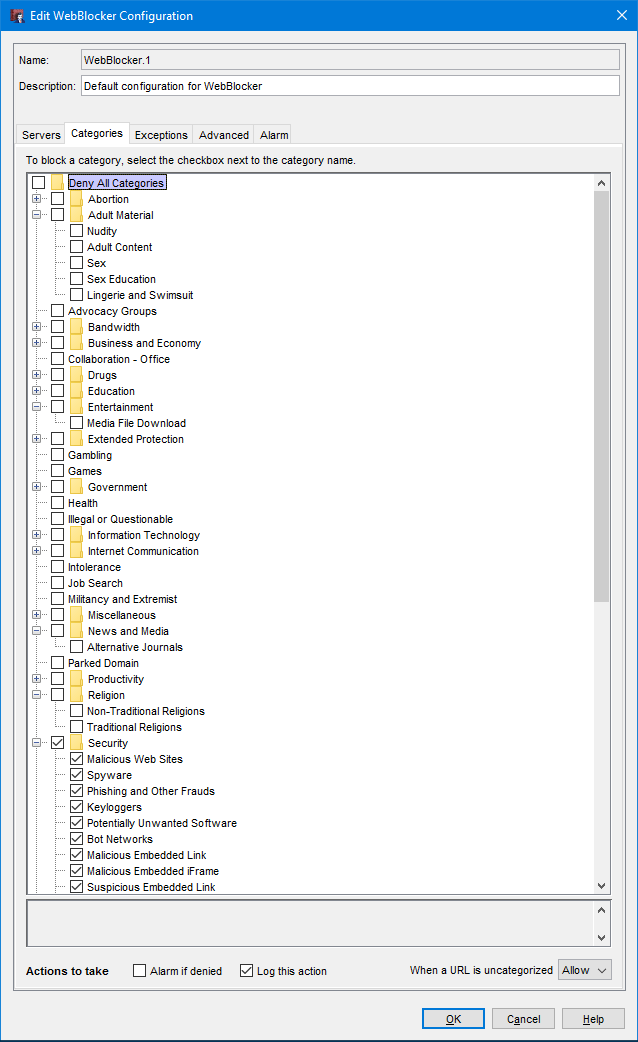 Zur Auswahl stehen 130 verschiedene Ober- und Unter-Kategorien, die selektiv freigegeben bzw. gesperrt werden können. Unabhängig von Kategorie-Zugehörigkeiten können auch explizites Whitelisting und Blacklisting auf URL Pattern Basis definiert werden, welches Vorrang hat. Die Konfiguration von WebBlocker erfolgt – wie die Bedienung der eigentlichen WatchGuard Firebox – auf Englisch. Bei Nutzung von User Authentication (User müssen sich an der Firewall anmelden, standardmäßig im Basisprodukt enthalten) können unterschiedliche Zugriffsrechte auf Benutzer- oder Gruppenebene definiert werden, alternativ natürlich auch auf IP-Adress-/Maschinenebene.
WatchGuard WebBlocker erfüllt die Anforderungen des Jugendschutzes im Sinne des Strafgesetzbuchs, 
insbesondere wenn minderjährige Auszubildende im Betrieb einen PC mit Internet-Zugang nutzen dürfen!
Verfügbare Kategorien zur Selektion:
Abortion (Pro-Choice, Pro-Life)
Adult Material (Nudity, Adult Content, Sex, Sex Education, Lingerie and Swimsuit)
Advocacy Groups
Bandwidth (Internet Telephony, Streaming Media, Personal Network Storage and Backup, Internet Radio and TV, Peer-to-Peer File Sharing, Surveillance, Educational Video, Entertainment Video, Viral Video)
Business and Economy (Financial Data and Services, Hosted Business Applications)
Collaboration – Office
Drugs (Prescribed Medications, Nutrition, Abused Drugs, Marijuana)
Education (Cultural Institutions, Educational Institutions, Educational Materials, Reference Materials)
Entertainment (Media File Download)
Extended Protection (Elevated Exposure, Emerging Exploits, Suspicious Content, Dynamic DNS, Newly Registered Websites)
Gambling
Games
Government (Military, Political Organizations)
Health
Illegal or Questionable
Information Technology (Website Translation, Proxy Avoidance, Search Engines and Portals, Web Hosting, Hacking, Computer Security, Web and Email Spam, Web Collaboration, Unauthorized Mobile Marketplaces, Web Analytics, Web and Email Marketing)
Internet Communication (General Email, Web Chat, Organizational Email, Text and Media Messaging)
Intolerance
Job Search
Militancy and Extremist
Miscellaneous (Web Infrastructure, Web Images, Private IP Addresses, Content Delivery Networks, Dynamic Content, Network Errors, File Download Servers)
News and Media (Alternative Journals)
Parked Domain
Productivity (Advertisements, Online Brokerage and Trading, Instant Messaging, Application and Software Download, Pay-to-Surf, Message Boards and Forums)
Religion (Non-Traditional Religions, Traditional Religions)
Security (Malicious Web Sites, Spyware, Phishing and Other Frauds, Keyloggers, Potentially Unwanted Software, Bot Networks, Malicious Embedded Link, Malicious Embedded iFrame, Suspicious Embedded Link, Mobile Malware, Advanced Malware Command and Control, Compromised Websites)
Shopping (Internet Auctions, Real Estate)
Social Organizations (Service and Philanthropic Organizations, Social and Affiliation Organizations, Professional and Worker Organizations)
Social Web – Facebook
Social Web – LinkedIn
Social Web – Twitter
Social Web – YouTube
Society and Lifestyles (Restaurants and Dining, Gay or Lesbian or Bisexual Interest, Personals and Dating, Alcohol and Tobacco, Hobbies, Social Networking, Blogs and Personal Sites)
Special Events
Sports (Sport Hunting and Gun Clubs)
Tasteless
Travel
Vehicles
Violence
Weapons
Logging und Reporting
Das Logging und Reporting erfolgt über den schon mit dem Basisprodukt kostenfrei zur Verfügung gestellten WatchGuard Dimension Server oder über die älteren Windows-basierten Logging- und Reporting-Dienste, die Bestandteil der WatchGuard System Manager Software sind. Die Log-Einträge und Statistiken können über diese Plattformen gesichtet und ausgewertet werden.
Lizensierung
WatchGuard WebBlocker ist ein optionaler Security Service. Er ist Bestandteil der WatchGuard Basic Security Software Suite und der WatchGuard Total Security Software Suite. Er ist standardmäßig beim Kauf eines Security Software Bundles enthalten, kann aber auch einzeln lizensiert werden.
WatchGuard WebBlocker:  [Bestandteil der Basic Security Suite]  [Bestandteil der Total Security Suite]  [einzeln lizensierbar]

Zur Übersicht WatchGuard